""Readers of a more mature disposition may recall how we once listened to Music From Big Pink. This is a different proposition entirely. Everything you most loved about Dolly and Rosanne is here, with heart-tugging hooks that snag like spurs, chiming banjo, sweet fiddle, tempered with the stringent whisky-burn of heartbreak, timeless as sunrise.
"On The Heart, Regardless, cheating lovers' words disappear in sharp scratches of deception, strangers meet in the truck-stop bar six miles from Lonely Street, and pedal-steel glides on twangy bass and fiery mandolin, sharply attuned to each other in syrupy harmonies and nimble, fleet-footed picking.
"Mary is strong, but emotionally vulnerable, betrayed by the catch in her voice, vindicated by the swoops of answering vocal strengths. Hearts are laid on the line in delicious car-radio country-pop ballads, and there's stark vagabond autobiography in 'Tall Timbers,' the lost horizons from where you can see impossible tomorrows way up beyond words, yet close as sweat on skin.
"On this third full-length album there are thirteen new songs by Washington DC based Mary, plus 'Drive That Fast,' from Baltimore's honky-tonker Arty Hill – music that quivers along each honey tangle twitch into the whispering patterns of songs that hearts make regardless."
– Andrew Darlington, RnR Magazine, UK, March/April 2018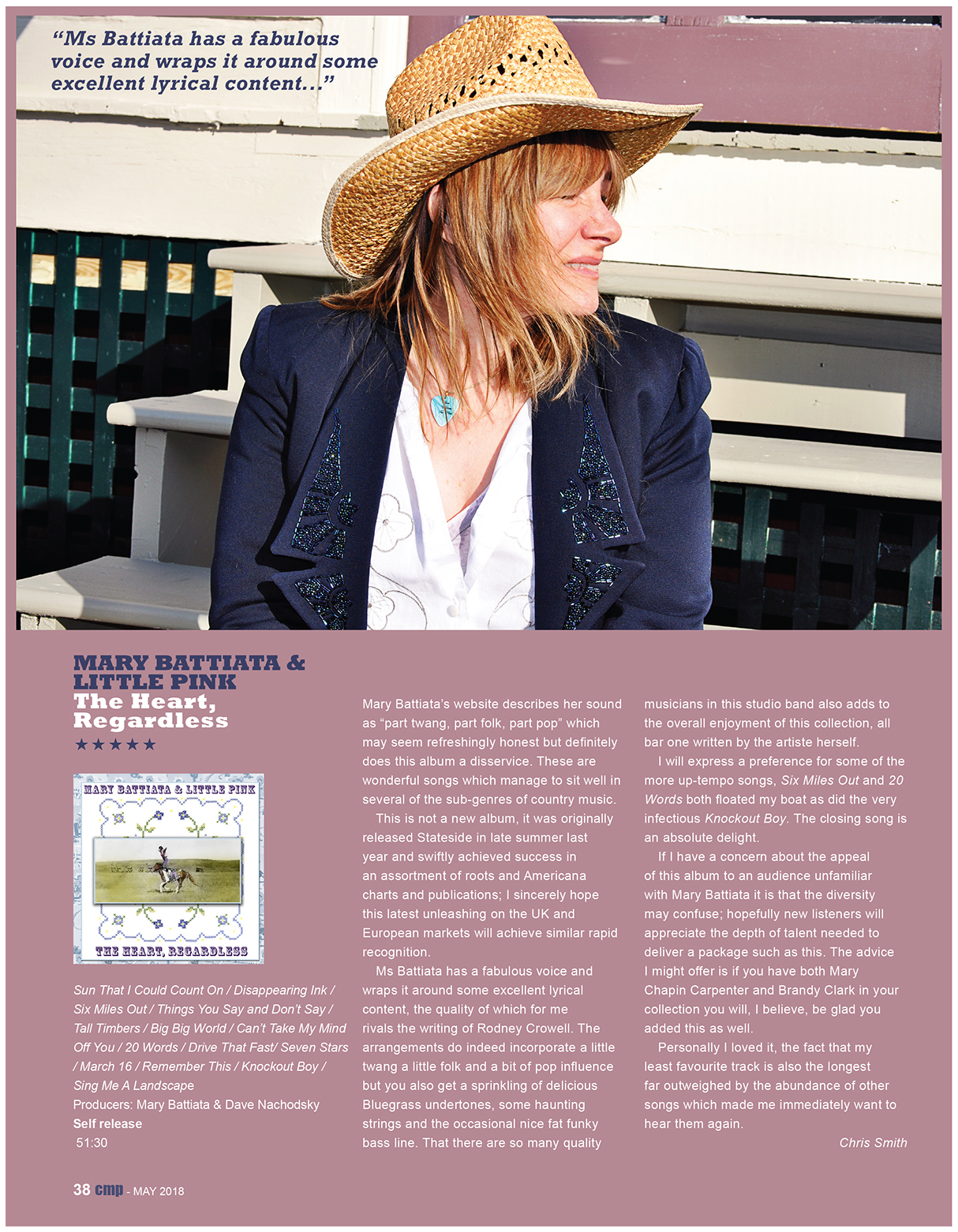 Praise for The Heart, Regardless:

"Absolutely superb, isn't it?" - Whisperin' Bob Harris, longtime and legendary deejay of Bob Harris Country, on the air on BBC Radio 2, May 3, 2018, after playing "Sun That I Can Count On," from The Heart, Regardless. "The album is The Heart, Regardless from Mary Battiata and her band, Little Pink. Very, very interesting woman -- some of the reviews of this album have been sensational, and it's interesting that the songs are so well-crafted. She's a former journalist, so I suppose it's not too surprising ... But this is a gem of an album. It's the first time I've ever played them... For sure I'll be playing more music from this album in future weeks."

- "Mary Battiata's latest is no more and no less than a jewel of modern country." – Dani Heyvaert, ROOTSTIME.BE (Belgium)
- "Dark Country that hits the motherlode." – Mike Davies, Fatea Records Magazine (UK)
-"The arrangements do indeed incorporate a little twang a little folk and a little pop influence but you also get a sprinkling of delicious Bluegrass undertones, some haunting strings and the occasional nice fat funky bass line. That there are so many quality musicians in this studio band also adds to the overall enjoyment of this collection, all bar one written by the artiste herself. I will express a preference for some of the more up-tempo songs – Six Miles Out and 20 Words both floated my boat as did the very infectious Knockout Boy. The closing song is an absolute delight." – Chris Smith, Country Music People, May 2018
- "She has made an unabashed Country album, and a great one at that." – Charles Walston, The Hill Rag (Washington DC)
- "This is a CD of real country music, brilliant and varied, and very much as one would like to hear it. The songs are at a high level … The unstoppable country ballad 'Things You Say and Don't Say' alone would justify acquiring this CD, as would 'Can't Take My Mind Off You,' an example of the best honky-tonk. Oh, and I forgot: Mary sings superbly." – Sam Pierre, Le Cri du Coyote (France)
- "One of the 20 other great honky-tonk albums that I tremendously enjoyed this year" - A. Michael Uhlmann, Honky Tonk Daily (Austin TX), in the coda to HTD's list of Top Country Albums of 2017; others in the coda: Jason Isbell, Charley Pride, Lee Ann Womack, Marty Stuart and more]
- "The space evoking 'Remember This' … is arguably the high point of the album as pedal steel, banjo and a moody drifting feel see Battiata on an emotion packed adventure to a place beyond the norm. Along with … the crackerjack back-roads country jewel 'Can't Take My Mind Off You' (more excellent harmony vocals from Dudley Connell), and the gallop of '20 Words,' a machine-gun short tune that never stops for breath. The record, produced by Battiata and Dave Nachodsky, enjoys a great deal of instrumental depth, creativity and width over what is a more than generous 14 tracks." – Maurice Hope, Flyinshoes Review (UK)
- "I seriously like this album. For one thing, I am a sucker for country and Americana music that uses lots of minor chords. ... For another, the songs always maintain a nice beat/rhythm -- I connect more to songs like that. … [And] Mary's voice and Dudley Connell's harmony singing blend so nicely." - Steve Hoffman, Program Director, WOWD-LP 94.3 FM Takoma Park MD
Reviews for Gladly Would We Anchor (Night World/2007)


Harp, Nov. 2007

"Virginia's Mary Battiata sings like an angel, resembling, variously, Linda Thompson, Margo Timmins or Roseanne Cash. Yet she's clearly wrestling with some devils on this, the follow-up to Little Pink's 2001 debut Cul-de-sac Cowgirl. The album opens innocuously enough, with the gently rolling gospel-folk of "Like A Wheel," but within a couple of songs it turns edgy and lined with shadows, chronicling this purgatory we call humankind. The New Orleans-flavored, swampy "Charm Offensive" warns of a heartbreaker who's cold as ice, while in the Calexico-like noir of "Extinction," Battiata's world-weariness is palpable as she ponders our eventual fate. Her country-ish, atmospheric Katrina meditation "Wind and Water" vividly places you back in the midst of devaqstation and creeping horror, and even her choice of a Bevis Frond cover, the scruffy, power-poppy "Stars Burn Out," reveals a deeply cyncial streak (it's about our heroes and their declines). Ultimately, though, Gladly Would We Anchor isn't a downer, because by peering into the darkness, Battiata is wielding the illuminating rays of hope."

-- Fred Mills





The Washington Post (April 6, 2007; page WE10):

WHEN NOVELIST George Pelecanos recommended LITTLE PINK's 2001 release, "Cul-de-sac Cowgirl," on his Web site, he noted singer-songwriter Mary Battiata's "strong pipes" and added, "Think Emmylou [Harris] or early Dolly [Parton], mixed with Richard and Linda Thompson." Now comes LITTLE PINK's follow-up CD, "Gladly Would We Anchor," 15 songs that should keep listeners thinking – of Lucinda Williams and Roseanne Cash, for starters – but mostly of how Battiata, in her own quiet, subtle, insinuating way, earns such comparisons. If the alt.country landscape weren't already littered with tales of the restless and forlorn, Battiata's job would be a lot easier. What makes her songs stand apart often has more to do with structure than with lyrics. Beginning with "Like a Wheel," an imagine reinforced throughout the album, refrains, melodies and rhythms keep folding back on themselves, creating dream like sequences that have a cumulative effect. With the emphasis on resonating guitar tones, textured percussion and baritone saxophonist Chris Watling's nourish slant, the arrangements consistently heighten the mood and complement Battiata's haunting vocals. No, it's not hard to imagine Harris or Williams covering many of these songs, particularly "Extinction" and "Orange Moon," but it's not as if Battiata and her band mates have any trouble casting their own spells, one after another. Of course, given a lineup that features a lot of Washington-bred talent, plus guest lap steel guitarist Ben Peeler and co-producer and multi-instrumentalist Philip Stevenson, that's not surprising.

– Mike Joyce

3rd Coast Music (April 2007):

Next in line, I was waiting for Lyle Lovett to finish a radio interview when he was obviously stunned by a very silly question about majoring in journalism, and in the awkward silence, I offered that Merle Haggard thought that country lyrics were just journalism put to music. After that we got on like a house on fire.

How Lovett would have fared as a journalist we'll never know, but, in my experience, journalists should stick to scribbling, musicians to picking. I've spent some very painful moments trying not to listen to execrable bands fronted by colleagues, while most songwriters come across as semi-illiterate in prose. I will, however, gladly make an exception, both ways, for Mary Battiata, lead singer and songwriter of DC-based band LITTLE PINK (a nod to the Band). As (I think) I said about Cul-de-sac Cowgirl (Adult Swim 2001), covering revolutions, civil wars, famines and two genocides as a Washington Post foreign correspondent is not the normal stuff of singer-songwriter bios, and though she doesn't directly address any of her experiences – the album title, taken from a Ralph Waldo Emerson essay, "Gladly would we anchor, but the anchorage is quicksand," might perhaps be read as a summary of them – it's hard not imagine that they informed her lyric sensibility. Equally, filing stories on horrors almost beyond words may help explain the unsettling edginess and concision of her songwriting. Part twang, part folk, part pop, Battiata is not the most accessible of songwriters, but she's all the more rewarding for that.

– John Conquest (4-flower review)

Kausfiles 5/23/07 (from Slate Magazine):

Hunt in Morning, Fish in Afternoon: My friend Mary Battiata, who covered (among other things) the fall of Communism for the Washington Post, has produced a a second alt country CD of her songs with her band Little Pink. It's pretty great--every song is good, there are fast ones and slow ones, yet it has a distinct, of-a-piece sound. Not since Little Feat's Sailin' Shoes have I played a CD more or less continuously, start to finish, and never wanted to get up to take it off. (Even Leona Naess' I Tried to Rock You But You Only Roll, the previous champ, has one bad song; Steve Earle usually sticks a clinker in each half--and that's for his good albums. Rosie Thomas' When We Were Small opens with three songs so purely, wrenchingly sad I've never actually made it to song #4.)

The Greenman Review (June 2007)

Mary Battiata has been a journalist reporting from war zones. Now she writes and sings songs from the war zone of the heart, where it seems like nobody wins. Except you, if you like music that combines the unflinching honesty of singer-songwriter folk, the beat of low-fi rock and literate lyrics. Gladly Would We Anchor is Mary's second full-length fronting the band Little Pink, based in the Washington, D.C. area.

Its title taken from a Ralph Waldo Emerson essay, Gladly starts strong with "Like a Wheel." It's a simple song with an AB-AB blues structure about finding love and a measure of contentment with maturity. "It took half our lives to find ourselves here / like a wheel, like a wheel, like a wheel," she sings in her quiet, almost tremulous voice. "Now we're looking ahead with our ears to the ground / like a wheel, like a wheel, like a wheel." Battiata is a sharp observer of internal states as well as of the natural world, and nature imagery abounds. "Oh I live in a bluebird house," she sings in the second track, a slow shuffle accented by Ben Peeler's Weissenborn guitar. "And I stay inside and I never come out / I fly in from the cold / and keep all the secrets that we told..."

Philip Stevenson, who co-produced the disc with Battiata, plays electric guitar on many of the tracks (as well as several other instruments throughout.) His playing always complements the song: spiky and angular (and paired with skronking bari sax) on the r&b song "Charm Offensive," about a creepy guy turning on the charm; hot and soaring on the smoldering mid-tempo rocker about passionate love, "Ten Feet High." In fact, all of the contributors to Little Pink are similarly well orchestrated, including John Gnorski's trembly electric guitar on the hopeful love song "Trance," Chris Watling's accordion on the Fairport-style ancient-sounding ballad "John the Cat" and Peeler's Weissenborn on several tracks.

Peeler also contributes some atmospheric lap steel on some of these songs. In particular the harrowing Hurricane Katrina ballad "Wind And Water." The song is told in first person by a person clinging to life with several others in a boat during the post-Katrina flooding of New Orleans, always coming back to the refrain, "and the boat spun in circles as the water rose..." It's one of the most effective and haunting evocations of that natural disaster I've heard yet. "And from every rooftop the dogs began to howl / and the moon turned its face in the clouds / and our feet felt so cold, and the water soaked the baby ... I am just a sinner but I do not want to die / and I always believed I'd be brave / but I do not want to go, God made this world beautiful / and my love and my babies still need me..."

There's more nature as metaphor in "Extinction," as well as "Orange Moon," an acoustic folksong exhorting you to "be careful when you talk to the man in the moon / he's got a different face every night..." She sings in a light country drawl in the existential "Beggar's Bowl," and a dreamlike tale of the loss of childhood in "Magic Years."

Of the 15 tracks on Gladly, Battiata wrote 12, co-wrote "Stolen Flowers" with D.C. country-rocker Karl Straub, and covers Stevenson's "The Brokenhearted" and The Bevis Frond's "Stars Burn Out."

Little Pink's music grabbed me the first time I heard it. Mary's fragile-sounding (but not childlike) voice, the sturdy folk and country-rock arrangements and her sharp eye for lyrical detail both internal and external are a potent musical recipe. It's been a long wait since Little Pink's 2001 debut, Cul-de-sac Cowgirl. It was worth the wait. Gladly Would We Anchor is another excellent collection of songs from a gifted songwriter. To see if this music moves you like it does me, you can download some tracks at Little Pink's Web site

. -- Gary Whitehouse

LITTLE PINK "12 Birds" (Adult Swim)

Mary Battiata's 2001 debut as Little Pink, Cul-de-Sac Cowgirl, was on my very short list of favorite discs that I reviewed in 2002. She has another full-length CD in the works, but keeps her hand in with this four-song acoustic EP. On all four tracks, she plays rhythm guitar and is accompanied by just one other musician. Three songs were recorded live, the fourth in the studio with a near-live sound. If this singer-songwriter has a trademark, it's the sound of a broken heart being dissected with a steely gaze and steady hand. She also draws on a full bag of references without freighting her songs with too much art.

The opening studio track, "12 Birds," is a blue Christmas song, using a tree-full of familiar images and metaphors in new ways: "The ghosts of the past all gather round/and raise their glasses and drink you down." Of the three live tracks, one, "Neon Postcard," is a reprise from Cowgirl. It fits well with "Bumblebee" and "Gone Over," all of which are rife with images of the natural world that somehow heighten the singer's sense of longing. My favorite of the three is "Bumblebee," a slow, dreamy waltz-time song of the end of a love affair, in which she declares "We're always lonesome in crowds of our kind." The refrain of "Gone Over" delightfully meshes Sixties pop with old-time gospel.

Little Pink's music is poignant but bracing, its characters weepy and yet clear-eyed, vulnerable survivors. 12 Birds whets the appetite for more to come.

-- Gary Whitehouse, Greenman Review
www.greenmanreview.com

LITTLE PINK "Cul-de-Sac Cowgirl" (Adult Swim) Little Pink's brand of alt.country falls somewhere between the beer soaked sounds of roadhouse bar bands and the academic folk music of coffee house performers. On Cul-de-sac Cowgirl, the Washington, D.C.-based band delivers twelve tight and polished songs that nod to the usual alt.country founders-Gram Parsons, the Byrds, Bob Dylan. Singer and songwriter Mary Battiata's lyrics paint vivid pictures of love and longing for Karl Straub's (the Graverobbers) jangly guitar to decorate. The upbeat rocker "Cry All Night" showcases Battiata's talent as a wordsmith with a knack for clever double meanings: "There are feedback conversations/That distort all that I hear." It also demonstrates Straub's and Battiata's formidable writing presence as one of their four collaborations on the disc. It's interesting to speculate where Battiata learned to write so well; as a journalist in the early 1990s she covered the war in Bosnia. Does writing about the terrors of war make one more prepared to write about the terrors of love and loss? Surely aplomb is necessary in making either subject palatable for the reader-or the listener. On Cul-de-sac Cowgirl, It's clear that Battiata has the mind, the voice and the band to make the songs go down easy. [buy it] For fans of: the Cowboy Junkies, the Jayhawks, Victoria Williams -Benjamin Johnston
www.highbias.com/reviews/20020217.html